Filter by Category
Workforce Training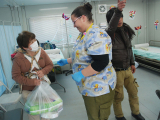 Online Registration Unavailable
Certified Nursing Assistant (CNA) Class
with Marcia Campbell, RN

Mar 2, 2020
This is a Maine State Certified course and exceeds the 180 hours required by the State of Maine. Requirements include a math and reading test, interview session, physical within the last year, immunization records, and the willingness to dedicate your time to a 12 week commitment. Call Heidi Durgin at 743-8842, ext. 1545 for information. VA funding approved. Scholarship and other funding available to eligible students. Call today to start the enrollment process. Tuition includes instruction, books, test and supply fees.
Substitute Teacher Training II
with Patrick Hartnett

Apr 7, 2020 at 4 pm

, runs for 1 week
Substitute teaching is a way to help your community while earning extra money. This workshop provides information about school expectations, teachers' lesson plans, and assertive discipline. Persons who complete this course successfully may be enrolled as substitute teachers for SAD 17. (College degree preferred but not required.) Must advance register for either session.