Filter by Category
Healthcare Training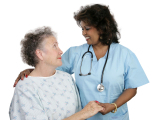 Registration Unavailable
Certified Nursing Assistant (CNA)
with Marcia Campbell

Feb 26, 2018 at 3:30 pm

, runs for 12 weeks
This Maine State Certified course includes 120 hours of classroom instruction plus 80 hours of clinical practice at local health care facilities. Requirements include a reading test, interview session, physical within the last year, immunization records, and dedication to a 15 week commitment. Tuition is $850 plus fees below. For more information call Jeanna Packard at the adult education office 743-8842 ext 1538.
Other fees (paid later)
Book Fee - $100.00
Lab Fee - $90.00
Other Fee - $145.00
CRMA
with Sandra Allen

at 9 am

, runs for 8 weeks
This course follows the CRMA standardized design as provided by the State of Maine, Dividion of Licensing & Regulatroy Services, and Community Service Programs. The curriculum requires 35-40 hours of classroom time as well as a clinical component under the supervision of an R.N. Instructor. Upon successful completion of this course, participants will obtain a certificate from the State of Maine and be certified to provide medication administration in the residential setting. Re-certification is required every 2 years. The registration fee includes all training materials. Class size limited. (Class dates & times subject to change).