Filter by Category
Computers and Technology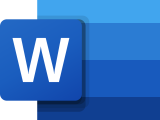 Microsoft Word Level I
with Teresa Drag

Apr 27, 2021 at 4:30 pm

, runs for 2 weeks
Learn to use MS Word to create, revise, and save documents for printing, sharing, and later use. This course will cover planning, formatting, editing, and inserting pictures as well as additional capabilities of the software based on student interest. Must have basic computer skills.
Microsoft PowerPoint
with Teresa Drag

May 11, 2021 at 4:30 pm

, runs for 2 weeks
This class will teach you the tools that ou need to create clean slide pesentations and intricate pitch decks - giving you a powerful presentation maker.