Filter by Category
General Enrichment
Map, Compass and GPS Basics - In Person & Online
with Kevin Frost

Apr 13, 2021 at 4:30 pm

, runs for 1 week
Basic map, compass & GPS covers all you need to know to get started. Learn how to read a map, plan a route and develop a better understanding of how navigation works. Instructed by a local Maine Guide and is specifically designed to build confidence for all outdoor adventures.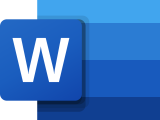 Microsoft Word Level I
with Teresa Drag

Apr 27, 2021 at 4:30 pm

, runs for 2 weeks
Learn to use MS Word to create, revise, and save documents for printing, sharing, and later use. This course will cover planning, formatting, editing, and inserting pictures as well as additional capabilities of the software based on student interest. Must have basic computer skills.
Microsoft PowerPoint
with Teresa Drag

May 11, 2021 at 4:30 pm

, runs for 2 weeks
This class will teach you the tools that ou need to create clean slide pesentations and intricate pitch decks - giving you a powerful presentation maker.